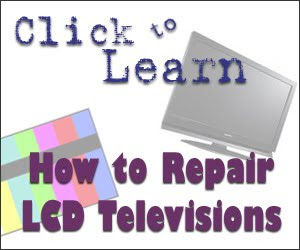 Here's another nifty repair training that you can get online aside from the DIY LCD TV repair, plasma TV repair and LCD monitor repair courses (among others— please see sidebar navigation) that you will find on this website. The Podnutz Laptop Repair Video Collection is a collection of videos intended for those who are looking to learn how to fix laptops and notebook computers.
If you have a faulty or malfunctioning laptop and happen to be the do-it-yourself type who has a knack for repairing electronics, then this video collection will certainly be a big boost to your repair project. If you are a practicing electronics or computer repair technician and are willing to expand your knowledge base, then these videos will also help.
This Podnutz set offers video instructional on the following:
Fix LCD screens

– Learn how to repair and replace LCD screen. Learn how to determine whether the problem is rooted to a problem with the screen itself or the inverter board. This is very important technical skill that should be learned by all repair technicians.

Replace motherboards

– This one is something that scares most novice computer technicians and one that certainly makes most DIY enthusiasts think twice. The Podnutz videos will shatter all apprehensions regarding this somewhat delicate surgical procedure.

Methodically take a laptop apart

– An all-important skill that must be learned before fixing a laptop computer is how to make sure that you take it apart such that you will learn how to put them back together again. Podnutz gives you a video to solve all your fears!

Fix AC adapters and DC power jacks

– A basic yet important skill that helps you save money by teaching you how to fix faulty power cords, adapters and jacks.

Repair notebooks that have been spilled over by coffee, water or any liquid

– This happens more than we think so this will surely come in handy. The Podnutz video set will show you how to handle this problem.

Replace other laptop parts

(e.g. CD or DVD drives, hard disk drives, RAM and central processors)
Basic electronics troubleshooting and repair skills – The video set also provides instructions on basic repair skills like soldering and electronic testing. Soldering is a skill that should be learned by anyone looking to dabble in any laptop or electronic repair endeavor.

And a lot, lot more!!!

– And by a lot, lot more I truly mean a LOT more! This particular Podnutz collection is composed of videos with a length that adds up to 10 hours of high-definition watching pleasure. It is composed of 40+ separate videos that tackles every important thing that you need to learn as far as learning how to fix notebook computers are concerned. The videos also offer an informative introduction, information on the required tools, a primer on laptop batteries, etc. It will also offer brand specific solutions like:
– Solving power problems and replacing the keyboard on a Gateway laptop
– Fixing a Toshiba, Gateway and Dell B130 laptop power jack
– Motherboard replacement on a HP DV6000
– Solving the "key not working" problem and fixing the ribbon on a Sony Vaio
– Testing a hard disk drive using Knoppix
– Replacing cracked LCD screen and cover on an Aspire 3680 and 3610, respectively
– Dealing with boot up problems on a HP DV6000
– Replacing the keyboard and screen back cover on a Dell Inspiron 1521
– Fixing and replacing the screen on a Toughbook CF-W5
– Etc.
If you are serious about any DIY laptop repair project or about your skill as professional technician, then you would do well to acquire access to the Podnutz video collection. If you wish to find out more about it and wish to see the testimonials of people it has helped, please don't hesitate to check out their home page HERE.
If you've found this article helpful, please help us back by sharing or linking to it (just copy and paste the link code below):