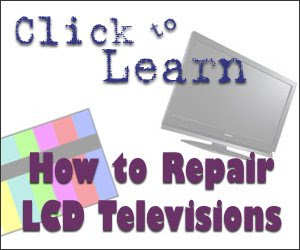 There are increasingly more of us who are looking to advance our education to be able to stay afloat in today's competitive and ever changing market conditions. The problem, however, is that going back to school while having responsibilities at work, at home and having obligations that relate to our social relationships, would mean a very difficult life as a student. Hence we look for more convenient options to learn and update our education.
The good news is that, with the blossoming of internet and computing technology, there are now new options being created to help us in out decisions on whether to go back schooling. Online courses (such as LCD TV repair courses) are now available to give us the e-learning option that could help us cope with our already busy work and social schedules. We can now go back to school without sacrificing other facets of our lives.
However, before going for online courses, one must first take into consideration whether this route is right for you. It is always best to weigh the advantages versus disadvantages of all options.
Online courses offer the following advantages:
You can go to class wherever you may be at any time you choose. You can enroll anytime of the year!
Work at it at your own pace. There's no time pressure when it comes to understanding your lessons. Take your time, hurry up, whatever you choose, you'll be okay!
No age and physical requirements. You don't even have to be moneyed because…
Online courses are often cheaper. Remember that most material that you will get are electronic learning materials such as e-books, videos, etc. No need for actual text books and live instructors to pay tuition to
Easy communication with fellow learners and online instructors through email, chatrooms, discussion groups, instant messaging, telephone, etc.
You'll get a lot of technical pointers that relate to computers and your computer skills will improve, which is a must in today's high-speed computing marketplace
Online courses offer the following disadvantages:
No actual socialization which could be a boon to your interpersonal skills and networking. Oral skills may not be improved because classrooms are all virtual.
Discipline will be hard to master since the structured classroom learning is non-existent with online courses. Motivation must be set even before you start.
If you are not technically inclined, dealing with computers might become frustrating. File management should be sound or else you'll lose files even before you start learning their content.
You may have difficulty with technical problems such as slow internet connections, computer crashes, etc. This will have a direct implication on your ability to complete the courses
While there are both advantages and disadvantages, it is clear that online courses may be a superb option for the busy types who try to do a lot with very limited time and space. For these subset, the advantages clearly outweigh the disadvantages.
Flat screen TVs are the wave of the future of home entertainment. We are seeing a huge surge in the adoption of this technology into many many households. Demand for services that relate to flat screen televisions such as LCD and plasmas would be a natural beneficiary of this surge. Learn how to do LCD TV repair and plasma TV repair through online courses offered by electronics guru Kent Liew.
If you've found this article helpful, please help us back by sharing or linking to it (just copy and paste the link code below):