Plasma TV repair and LCD TV repair is in for a surge in demand. The following are the reasons why I think so:
Being a researcher by profession, I've been pretty curious as to how TV sales are doing especially during a time of severe economic upheaval that, it appears, the entire world is going through.
Searching online I found a report by DisplaySearch that indicated a pretty healthy state of TV buying among the US population during the third quarter of last year (2008). The US is pretty much a good gauge of world economy and seeing how the good sales were, at least up to October 2008, was pretty surprising for me considering the economic havoc the credit crisis is causing worldwide.
Below is the spreadsheet report provided by DisplaySearch which I leeched off another tech-related blog (I could no longer locate the file). For the top LCD TV brands, Samsung, Sony,Sanyo, Panasonic, Sharp, LGE, Vizio, Funai, reported positive quarter-on-quarter growth of 1 to 41% with Vizio and LGE performing the weakest. For the Plasma TV brands, positive growth were reported for all the brands except Vizio, which saw an astounding 41% decline in sales in the 3rd quarter of 2008. The year-on-year performance were also generally healthy except for that of Vizio.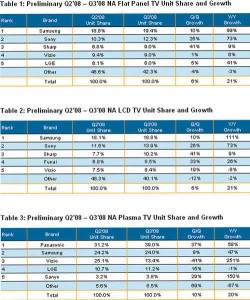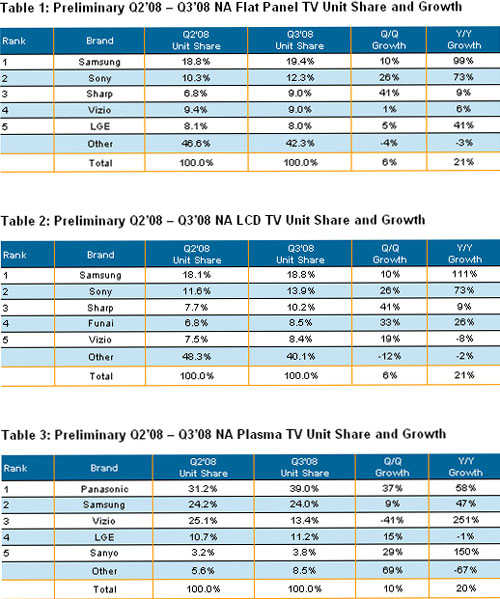 (Click to enlarge)
What do I think is happening here? It takes but a simple click of the mouse to answer this. I went over to our friendly neighborhood Amazon.com and searched for some big flat screens in their inventory and saw the magic of economics. What we're seeing are plain ol' market forces at work. Since most businesses are predicting bleaker economic conditions in the coming year, and hence weaker demands on consumer products, they did what was natural in the scheme of things— PRICE SLASH!
A Samsung 32-inch LCD HDTV is now just going for about $600 on Amazon while the 52-inchers have been discounted down to about $2,000. All the other brands like Toshiba have made similar price slashes.
Another thing might explain this TV buying spree. Americans are foregoing expensive vacations in favor of staying home to ride out the rest of the economic downturn. Hence they're stocking up on stuff to entertain themselves.
Are there opportunities in this trend, specifically money-making ones? There might be in the field of electronics repair. There have been millions of big screen Plasma and LCD TVs sold in the past few years and I'm pretty sure most of them are out of warranties. The current sales boom is indicating that businesses related to TV maintenance and repair might be in for brisk business in the near to long term.
More on this in future posts. Thanks for reading.
If you've found this article helpful, please help us back by sharing or linking to it (just copy and paste the link code below):