Do you know that you can now do away with the clutter of cords and wire that usually comes with using flat screen displays with your computer or laptop? Well, if you're like me who's tired of all the ugly tangle of cord then you might appreciate what AOC and Samsung have come up for us. Yes, these two companies are currently selling a couple of neat LED backlit flat screen LCD displays that have eliminated this problem. Well, at least the Samsung has totally solved the problem with wireless technology while the AOC nearly got there. I will explain that one in a bit but let's start off with the Samsung.
This LED-backlit LCD flat screen monitor is basically a docking display and computer monitor rolled into one. It uses wireless technology to hook up with your laptop, notebook (or even desktop) so you can use it as a docking station and a display extension. This means you don't have need to get a docking station so you could extend your displays. You just need this one Samsung! Definitely a boon if you use a small-ish notebook/laptop for your mobile needs but would want something bigger when you get home! It is 27-inch with a full HD (1080p) resolution so you'd get ample pixel space if you need it. Wireless connection for this unit is achieved using a USB adapter that you will need insert into one of your notebook's USB ports. You could also hook it up via wired USB cable if any situation warrants so. And since it's also a docking station, it comes with a sufficient number of the standard connectivity features like USB3, USB2, HDMI, etc. See following unboxing video for the Samsung C27A750X:
Related: Using a 4K TV as your computer monitor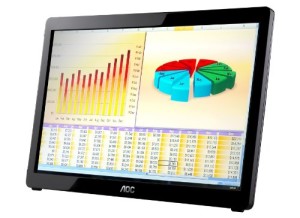 If you're not really looking a monitor with docking capabilities like the Samsung then the AOC E1649FWU might be good enough if you could get over the fact that it isn't really wireless in the same sense as the Samsung. But it does have one very neat capability; that is, it does not require a power cord. It gets all its power from the wired USB connection to your laptop/notebook. It's value is in its portability and it works well as a presentation device. Just prop it up on a table and you can run your presentation. It has an auto-pivot feature to re-orient image depending on whether it's in portrait or landscape position. Resolution is 1366 x 768 so it should be nice for casual viewing or showing of images but feedback from users indicate it's really not for high-quality image or video editing work so be advised. Well it's also way cheaper than the Samsung so features should be limited.
If you've found this article helpful, please help us back by sharing or linking to it (just copy and paste the link code below):