While shopping around for an HDMI cable, I stumbled onto a very interesting experiment which set out to answer whether pricey HDMI cables do have any relative advantage compared to their more inexpensive generic counterparts. All of us HD enthusiasts can relate to this, can't we? Seeing as to how varied the prices of these things are out there, I was quite interested with the results. As for me, in choosing between a $200 and a $12 cable, I'd love to have some hard facts as to why I should go for the wallet-breaker over one that I could buy without batting an eyelash. What's up with these expensive cables anyway?
The experimenter in this case is a guy named Zsolt Malota who runs an audio-visual installation outfit, a business which he started in 1995. His hypothesis was that HDMI cables of the same category but varying in price points should perform similarly under normal circumstances. Parameters that he needed to measure were related to image quality like image brightness and color rendition and he used some really fancy gear and software for the comparison.
Materials, Tools, Software
Materials for this experiment were composed of, a 2 mtr. cable bundled with a Toshiba BD player box (BDX1200Y), a generic HDMI cable (2 mtr., $12), a WireWorld cable (5 mtr., $140) and a fancy Audio Dimension cable (5 m., approx. $200).
Image quality was measured using an X-rite i1pro Spectrophotometer, an X-right Hubble Colorimeter (mounted on a professional Benro tripod setup) and a Quantum Data QD780 signal generator. Television used was a Samsung PS50C7000 plasma screen TV. A laptop with a commercial installation of a Calman calibration software.
The spectrophotometer is a device that measures light values (brightness) while the colorimeter measures the different visible light wavelengths (color values). Used together, an observer will be able to measure the correctness or accuracy of color rendition on a TV screen.
Results
After feeding the the readings into the software, it is pretty clear that the cheap HDMI cable doesn't seem to have any any significant drawbacks as far as image color rendition/reproduction is concerned as either of the cables showed color readings that fell exactly where they should in the gamut color charts. Meaning, the $12 cable performed just as good as the $200 cable. See the gamut charts produced by the software over at Zsolt's thread at the Overclockers forum where he reported his results.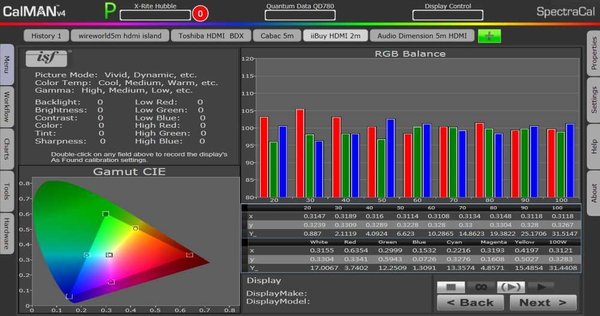 This basically tells you to save your $200 for something else and just go get the cheap one for your HD home theater set-up! Jason Imms of Tested.com, however, suggested that there may be situations you'd want a pricier cable such as when there's a need to lay down the cables inside of walls or underneath floors. In such cases, you'd want cables that are manufactured with top quality durable materials that will stand the test of time. It's expected that the cheap generic ones are probably not built to last so better keep that in mind if you're shopping for one.
If you've found this article helpful, please help us back by sharing or linking to it (just copy and paste the link code below):